MIDIV.org's FEATURED CAR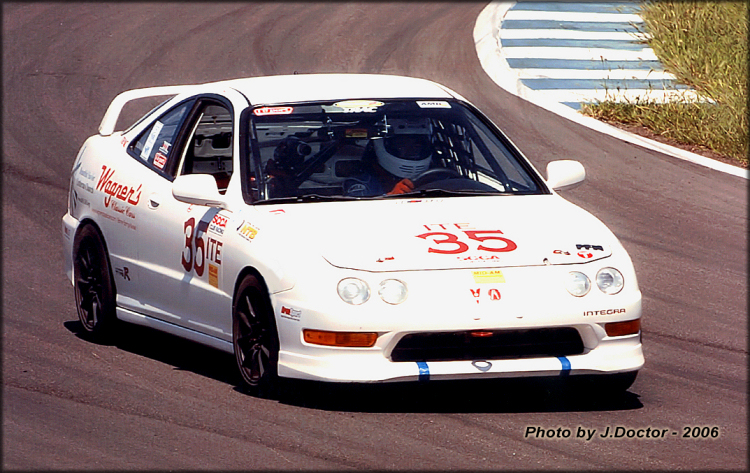 What can a guy do after 13 years of HPDE's? RACE! So after 3 track events with a '91 Civic, a 5 year break to raise my son, and another 5 years of "Car Control Clinics" with my Integra Type R, it was time to change to actual door-to-door racing. The learning experiences of the car club events I had done were priceless. Many thanks go to SCCA, the Kansas City Clubs – Porsche, Audi & BMW, along with the Integra Type R Club of America (www.ITRCA.com) for sponsoring those events.
My best friend, Jim Lorenzetti allowed me to use his Honda CRX (ITA #44) to get my license in 2005 while I built my car. 2006 began with the Integra in "ITE" since I felt starting in "E-Prod" would be a little overkill. It was exciting to have my Integra Type R classed in the Improved Touring "R" category, since "ITR" is the nickname by Honda fans! My first win occurred at MAM in Omaha in May. Several 2nd places were included and I finished with a 3rd place in the Mid-AM Championship. Ah – if only business didn't keep me from racing after July. Fortunately, I love my work, so golf has to take precedence from August to October.
In 2008, my son Daniel will have enhanced duties as my Crew Chief when he doesn't have baseball tournaments. Finally, a special thanks goes to my "high-school sweet-heart" wife Kim, and my 2 sponsors: Willie at Wagner's Classic Cars and Carl at Trac Racing. Thanks for the support!
Jeff Goodnow
"BudMan"
To have your car featured on MiDiv.org, send photo and information to webmaster@midiv.org. Cars will be featured in the order they are received.